2020
---
July 1st, 2020 – End of October 2020
CONTEMPORARY ART MUSEUM OF CRETE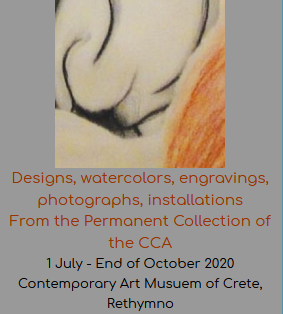 PAPER
Designs, watercolors, engravings, photographs, installations
From the permanent collection of the C.C.A.
Curated by Maria Marangou
The first exhibition of the Contemporary Art Museum of Crete marked its path along with the new virus and came to life during the last days of the quarantine, with the intention to remain faithful to the simple, plain, non-"commercial" nature of art, and at the same time, to converse with works of the museum collection, to eliminate any reverse in timing.
Thus, we can admire again a part of the treasure of our warehouse we had long missed as it was always set aside by the need for the new. Our exhibition is called "Paper" and involves works that begin in the 1950s and reach up to the present day.
Drafts, notes, final designs, all on paper (even toilet paper), colors, pastels, watercolors or acrylics on paper, paper pulp sculptures, engravings and photographs by Greek, European, American and Asian artists.
Alongside amazes the valuable series of works made by the inmates of the former Souda Mental Illness Hospital, in the historic project of 1996, in the public space of the Psychiatric Hospital, the "Garden of the Heart", inspired by the American sculptor Ronald Jones who passed away last year.
The "Garden" was designed by the patients themselves in a two-week programme, in collaboration with Ronald Jones, Greek artist Angelos Skourtis, the doctors and staff of the Psychiatric Hospital, and it was implemented with trees, spices and herbs.
The patients' works were exhibited at the Municipal Gallery "L. Kanakakis" next to the works of the American sculptor Ronald Jones, German photographer Thomas Ruff and Greek Nakis Panagiotidis who is active in Central Europe.
Today, we get to see these wonderful, lovely designs along with the digital recording of the project, and we would like to dedicate them from the heart to this great American friend.
The "Paper" exhibition will open on 1st July and will unfold through the works of 53 artists:
Amich Roya, Alexiou Nikos, Apostolou Evgenia, Arfaras Michalis, Asargiotaki Kalliopi, Boviatsou Lamprini, Chatziandreou Maria, Choulaki Maria, Dimitrakis Giannis, Doulgeris Christoforos, Gaitis Giannis, Giordano Joan, Gkeredakis Theofilos, Gravvalos Panagiotis, Hrbacek Mary, Hwang Ran, Kalliga Lizi, Kaloutsis Valerios, Kampani Lila, Kanakakis Lefteris, Karvela Anastasia, Lamprovasilis Alexandros, Lemou Kalliopi, Loizidou Maria, Maelee Lee, Lyra Eleni, Magnanti Renee, Manolis Giorgos, Michailou Eleni, Moore Ciara, Mores Theocharis, Mpampoulis Dimitris, Mpotsoglou Chronis, Nikolaidou Tonia, Oikonomou Giannis, Palieraki Anna, Pandolfini Pino, Papadimitriou Angelos, Papailiakis Ilias, Papaspyrou Rena, Ronald Jones, Siaterli Dimitra, Skopelitis Stelios, Tsiaras Filippos, Tsoukatou Popi, Theofylaktopoulos Makis, Valavanidis Giannis, Vidali Athanasia, Viskadourakis Nikos, Xenos Giorgos, Zampoura Marilena, Zacharopoulou Katerina, Ziaka Maria.
The exhibition will run from 1st July to the end of October 2020.
CONTACT:
CONTEMPORARY ART MUSEUM OF CRETE
Municipal Public Benefit Enterprise of Rethymno (K.E.D.I.R.)
32, Mesologhiou Str. GR 74100 Rethymno
Τ: +30 28310 52530
Email: info@cca.gr • http\\:www.cca.gr
Popi Tsoukatou © 2013